To post a video on
Uplust

:

• First, you need to get your profile verified and subscribe to Premium or VIP account. Click here to upgrade your membership.

• Then, click on the "Upload" button (with the camera icon) or scroll to the upload section located at the top of your feed.


• Click Photo/Video.
• Now you can choose or record a video from your device. Please note that short videos make the uploading process faster. Here are the size and file type requirements:
Your video file size can be up to 500MB and 10 minutes.
We accept MOV, MP4, M4V and AVI files.
Photos and videos uploaded by broadcasters may be free to view or have a Lust price required to unlock them.
• Once a video is selected, you will see it appearing on screen. Click next.
Editing a video?
If you need to edit, crop or trim your video, make it before selecting from your device. Uplust doesn't have an editing feature for videos.
Make your video premium
• In the same section, choose if you want to make money with your video. Videos uploaded by users may be free to view or have a Lust price required to unlock them. To make your video premium, click on the button: "Get Lusts". Then, enter the number of Lusts you want users to pay to see your post.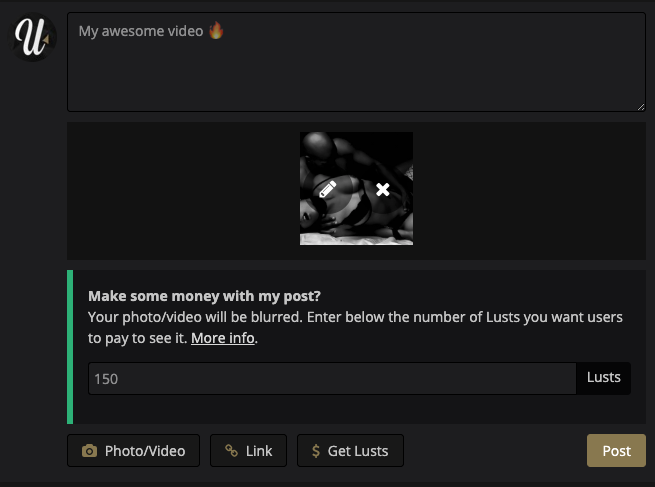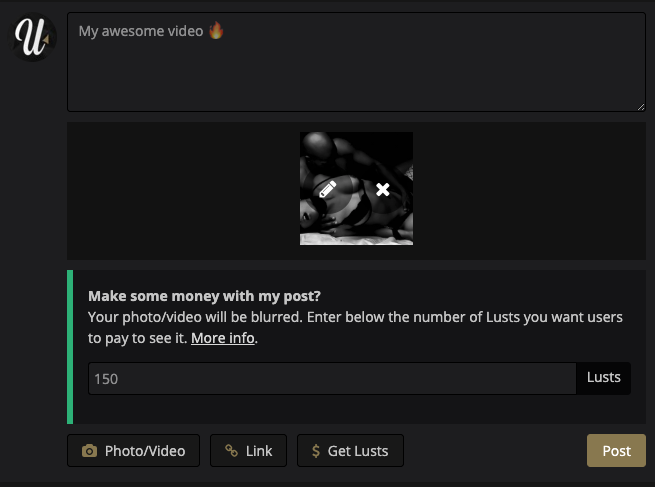 • Click "Post". That's it! Your video is now uploading and will be soon online. It can takes a few minutes to encode your video, be patient 😉
Frequently asked questions:
How do I know if my posted video is premium?
Your premium video is blocked for every user. They can thee your video thumbnail but they have to unlock it to watch it. If you are logged in, the video is not blocked but you can see whether your video is Premium or not thanks to the lock icon (+ Premium Content) located next to the time of your post.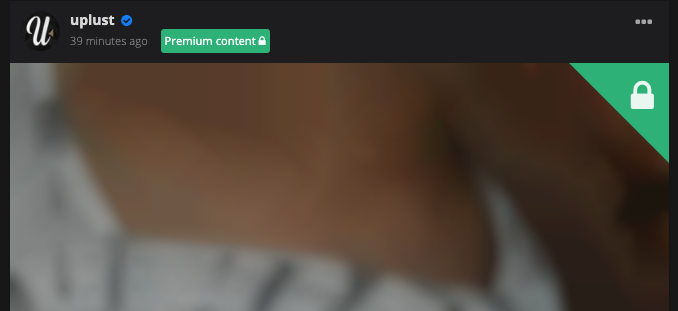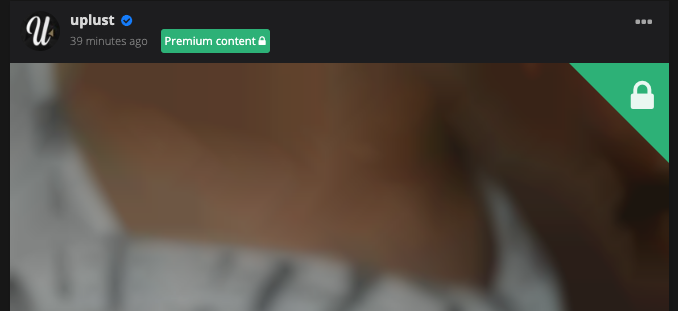 How do I delete a video?
You can delete a video by clicking or taping the x on the image thumbnail. Once the video is deleted, it will no longer be available from Uplust. However, please note that it may still be cached in some browsers, apps, and servers.
My posts are protected. Who will be able to see them?
Only approved followers will be able to see your photos and videos if your account is protected.
Will all videos appear in search?
Videos included in public account may show up in Uplust search results. Videos posted on private Uplust accounts and deleted videos will not show up in search results.
If I have a private account, what happens to my videos?
Your videos will still be viewable by your approved followers.
Videos previously shared by you when your

Uplust

 account was public will display an error message to those who do not follow you.
If you don't want anyone to see your videos on

Uplust

, you should delete them.